The project FollowTheQuote git 2 followers from the "like"-approach on twitter this week, which means a conversion of only 1%. An identical result was achieved on instagram: 200 likes ended up with 2 more followers for the own account.
This week, I noticed three accounts that followed the project instagram account in a row in the shortest time. Their approach was identical: first to like a post, then leave a comment on this post like "do not forget to follow me" and then to follow our account. It must be fake accounts, because, for example, the account "hannyhannysa" had just 3 posts, all stolen from the account "rossyaldrrr" (with 250 posts and over 145,000 subscribers). But it should be noted, however, that this fake account has gained over 796 subscribers from 04.01.2019 to 20.01.2019 (two weeks) with three stolen pictures and the strategy "like, comment, follow". So, the account "hannyhannysa" has subscribed a total of 2,717 accounts, which means that with this strategy it has achieved a conversion rate of 796 / 2,717 = 29% (twenty-nine percent!).
The other two fake accounts have achieved similar great results with the identical approach. The account "reygitha.re" from 11.01.2019 and with 5 (presumably also stolen) post pictures has collected a total of 227 subscribers, which means if it subscribed to 1,077 accounts, it is a conversion rate of 227 / 1,077 = 21% (twenty-one percent). And the account "ciciisafitrii" from 30.12.2018 with 4 (presumably also stolen) post pics has collected a total of 1,391 subscribers, which means with 4,406 subscribed account, it would be a conversion rate of 1,391 / 4,406 = 32% (thirty-two percent)! None of my previous approaches had such a high conversion rate for subscribers, not even nearly. 😀 The approach "like, comment and follow" would definitely be worth a try.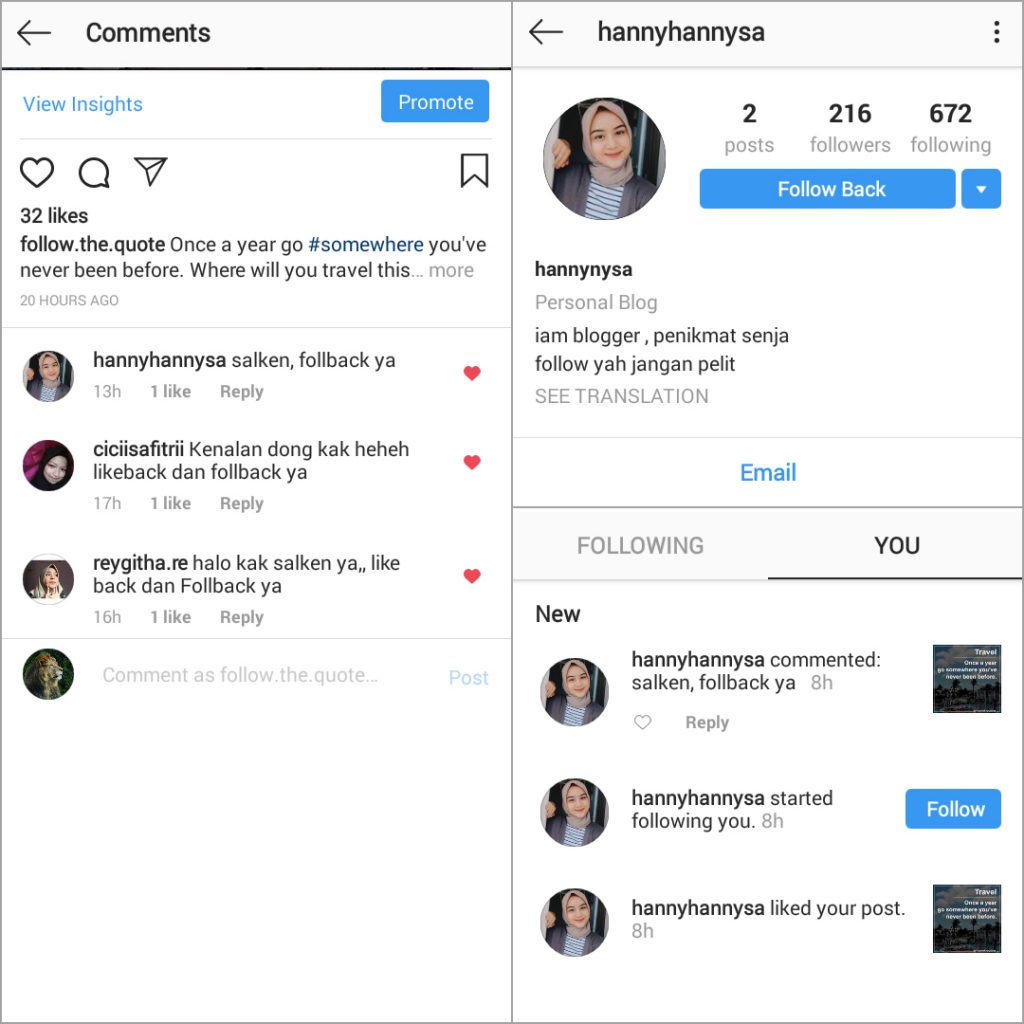 In the next week, however, I want to try next to the daily posts of quotes another strategy which will be advertising on facebook. If I understand the constant and subtle hints in my account on facebook correctly, facebook tries to persuade me with a coupon of 30 USD to try out their advertising platform, which also includes the service instagram. I'll take a look at this in a moment, and if it doesn't work, then I just try the approach "like, comment, follow" 😉
---
Blogpost made with patience and curiosity. Contains advertisement because of naming and linking brands and products. Note privacy policy and Disclaimer.